PINE GROVE SCHOOLHOUSE
ROUTE 167 / WEST AVON ROAD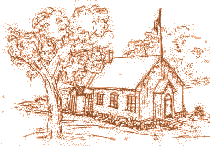 On October 7, 1865, a man with a team was paid $1.50 for scraping and leveling the site for The Pine Grove School. Constructed at a cost of $1,538.34, the school opened in December. Miss Francis, its first teacher, received $96.00 for a four month winter term.
English, grammar, mathematics, geography, history, music, and art were the subjects studied. The pupils walked to school carrying books, slates, and tin dinner pails. They took turns building a fire in a bench-type stove. Girls sat on the left and boys on the right. Eight grades were taught here.
For 62 years the school was known as School Number 7. In 1927 the town officially named it The Pine Grove School. By then it served as a place for prayer meetings and singing schools. It closed as a school in 1949, but remained open as a branch library, a nursery school, and a meeting place for Explorer Scouts.
In April 1975, the Avon Historical Society began its restoration of The Pine Grove Schoolhouse. Today it is set up as an early 20th century schoolhouse complete with bolted desks (c. 1865), hand slates (c.1900), textbooks (c. 1925), and a working stove.
Open Sundays 2 - 4 PM, Free
June through October or by Appointment
(860) 678-1043

Back to The Avon Historical Society, Inc. Main Page